Check out the latest edition of the Bright Futures Family Matters newsletter:
December 2013: A Caregiver's Gift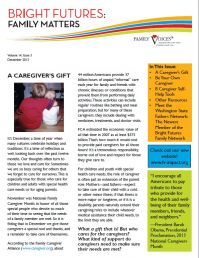 Each year family caregivers provide 37 billion hours of unpaid "informal" care for family and friends, including children, youth, and adults with special health care needs or disabilities.
Who cares for the caregivers who provide this important role?
This issue of Bright Futures Family Matters provides a set of "tools" from the Family Caregiver Alliance to help these special people be their own caregivers.
Playtime Safety: The Right Toys for Children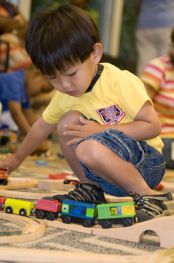 Are you looking for holiday gifts for a special youngster on your list? Or maybe you are just taking advantage of the toy sales that are everywhere this time of year. If so, it's important to make sure the toys you choose are right for the child.  
The Children's Safety Network reminds us to keep three things in mind when looking for toys:
Is the toy intended for your child's age?
Does the toy need any special protection gear like helmets or padding?
What are the toys made of?
Read their tips and find more resources here:  www.childrenssafetynetwork.org/blog/tips-choosing-safe-toys-children-holiday-season  
Additional Thoughts:  
Age-range: Most toys come with an age range on them. Keep in mind this is just an average, a starting point. Whether your child is ready for a specific toy has far more to do with ability than his or her actual age. This may be especially true for a child with special health care needs.  
Matching age and ability with a toy is important for safety. It can also make a difference in whether the child enjoys the toy. If it requires skills that the child simply does not have, it is likely to be a source of frustration rather than fun.  
If you are buying a toy for someone else's child, ask the parents whether the toy you picked out is a good choice for their child. This is important as some toys are culturally inappropriate for some racial/ethnic groups (e.g., toy owls, snakes, spiders, etc.).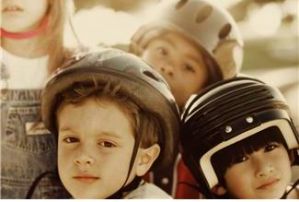 Proper Protection Gear: Make helmets, mouth guards, and other protective pads part of your child's routine for playing with toys like bikes, skateboards, etc. Just as seat belts should be part of a car ride routine, make sure your child is dressed for play. That includes these protective items as well as appropriate clothing that won't get in the way and cause accidents.  
Materials Used in the Toys: Make sure that the toys you buy are made of sturdy materials that will hold up under a child's active play. Remember that anything with small parts can be an especially dangerous choking hazard for young children. If you are giving a gift to an older child who has a younger toddler sibling, check with the parents before giving a toy that might be harmful if the toddler gets a hold of it.  
If you are crafty and plan to make toys for a young child, choose your materials and patterns carefully. Use non-toxic materials that won't harm your child. If you are looking for a toy for an infant or toddler, for example, you can count on that toy being chewed on! If you make stuffed animals, sew on patches for eyes rather than buttons that will come off. Pre-wash material before sewing to remove chemicals that might be harmful if chewed on.
Adult Supervision: It's a good idea to watch your child play with a new toy to make sure it is a safe, enjoyable experience. Give your child the chance to explore a new toy, but watch carefully for signs that he or she isn't quite ready for it right now.  
For more information on safe toys for children, check out this brochure in English and Spanish from the U.S. Consumer Product Safety Commission: 
HEALTHY BODIES: A Guide for Puberty for Children with Disabilities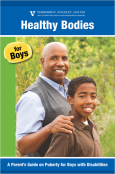 Puberty is a time of change for children, and often a time of challenge for parents looking for the "right" way to talk about the upcoming changes. It can be even more of a challenge for parents of children with developmental or physical disabilities.
The Vanderbilt Kennedy Center for Excellence in Disabilities has created two toolkits, one for boys, and one for girls, that provide factual information about puberty. Topics include encouraging good hygiene, appropriate behavior, and how to deal with body changes. The toolkits also suggest ways to approach these important conversations, especially with children with disabilities.
To read more, click here.