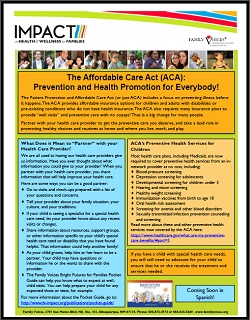 The Patient Protection and Affordable Care Act (or just ACA) includes a focus on preventing illness before it happens. The ACA provides affordable insurance options for children and adults with disabilities or pre-existing conditions who do not have health insurance. The ACA also requires many insurance plans to provide "well visits" and preventive care with no copays! That is a big change for many people.  
Partner with your health care provider to get the preventive care you deserve and take a lead role in promoting health choices and routines at home and where you live, work, and play.  
Family Voices Project IMPACT has a new resource on the ACA and Health Promotion. You'll find tips and information on:
What does it mean to partner with your health care provider?
The ACA's preventive health services for children. 
Simple steps you can take on the road to healthier lifestyles.  
Prevention and Health Promotion Happens at Home!
To prevent illness and stay as healthy as possible, the ACA also focuses on Bright Futures health promotion activities and recommendations. Bright Futures is the name of the American Academy of Pediatrics program that is built on prevention and health promotion.  
Many of the Bright Futures recommendations and activities happen at home or in the community, not in the doctor's office. What you do at home every day matters and will have lifelong impact on your family's health and well-being.  
Remember, if you have a child with special health care needs, you will still need to advocate for your child to ensure that he or she receives the treatment and services needed.  
Download this new IMPACT resource here:
http://www.fv-impact.org/files/1414/1268/4382/ACA_handout_final.red.pdf
For more health and wellness ideas and resources for families: