Leslie Carroll, Director, IMPACT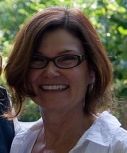 Leslie Carroll directs Family Voices IMPACT (Improving Maternal and Child Health Programs and Policies so All Children Thrive), a national project focusing on the essential role families and communities play in promoting health and wellness. Leslie holds a Master's degree in Urban Planning. Her professional interests include health impacts of the built and natural environments, access to healthy food and physical activity, family and community engagement in planning and decision making, and improving health outcomes for diverse populations, including children and youth with special health care needs and disabilities. Previous chronic disease prevention and healthy communities work includes directing the Tacoma in Motion Healthy Communities efforts at Tacoma-Pierce County Health Department; Pierce County Community Action Plan for Active Living and Healthy Eating; and Jackson County Oregon's Healthy Communities Program. She is the proud parent of two young adults, one of whom experiences autism and related developmental issues.
Melissa Vickers, IMPACT Project Coordinator

Melissa comes to Family Voices from the world of maternal and child health, and a passion for supporting breastfeeding mothers and their babies, through more than 20 years as a La Leche League Leader. That passion has expanded to include the importance of prevention in lifelong health, and recognizing the key role that families play in day-to-day health and wellness. Melissa holds a Master's Degree in Science Education. She is a writer, and creates many of the IMPACT publications for families. A member of the AAP Bright Futures Infancy Expert Panel, she has helped revise the Bright Futures Guidelines for Health Supervision of Infants, Children, and Adolescents, both the 3rd and upcoming 4th editions. She was the lead author of the Family Voices companion publication, The Bright Futures Family Pocket Guide: Raising Healthy Infants, Children, and Adolescents, 2nd edition.  In addition, she is co-author/editor of the 2012 book, The 10th Step and Beyond: Mother Support for Breastfeeding, with Australian IBCLC Virginia Thorley; and co-author of Passionate Journey—My Unexpected Life, LLL Founder Marian Tompson's memoir.  Melissa and her husband, Bob, have two grown children and one adorable grandson.