Getting Ready for this Visit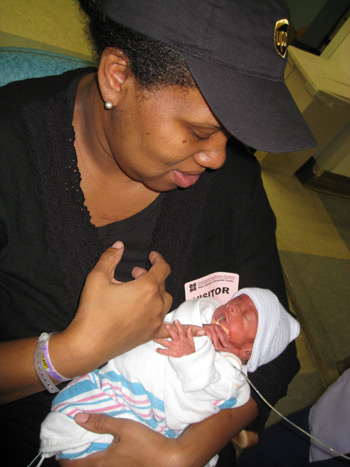 Write down your questions. Share your baby's new accomplishments and fully participate in this visit as a partner in your child's health.
Babies with special needs: Discuss how things are going for you and your child—any concerns, needs, or support services. If your baby has been referred to early intervention, talk about the Individualized Family Service Plan (IFSP), mention treatments or visits to specialists.
At this age, your baby may:
Respond to sounds by startling, blinking, crying, becoming quiet, or changing breathing
Look at faces, follow objects with eyes
Respond to your face and voice
Move arms, legs, and head
Suck, breathe, and swallow easily during a feeding
Show subtle signs of hunger (smacking lips, hands in fists, etc.)
Trust that you will respond to needs
What's Important for this Visit
YOUR questions and concerns are the #1 priority! Your health care provider may also discuss:
Mother's well-being: health and depression; family stress; handling advice from others; parent roles
Newborn daily routines: where and how your baby sleeps; calming your baby; your developing relationship with your baby; referrals for suspected problems
Feeding routines: how feedings are going; recognizing hunger, fullness, and having enough fluids; jaundice; guidance on breastfeeding or formula
Safety: car safety seats; tobacco smoke; hot liquids (water temperature)
Newborn care: when to call your health care provider; temperature taking; preparing for emergencies (CPR); preventing illness (hand washing, outings); skin care (sun exposure)
The 1 Week Visit: What To Expect
Your health care provider will check your baby from head to toe, checking skin, eyes, heart, abdomen, etc.; measure height, weight, and head size; ask questions to see how your child is developing, and ask about changes in your family. May carry out screening tests: blood test, hearing, others as needed.
Immunizations: See chart for any needed at this age.