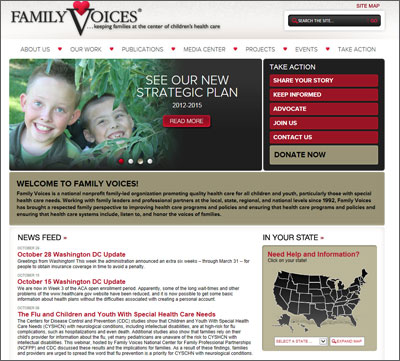 IMPACT is a project of national Family Voices.  Since its inception in 1992, Family Voices has worked to improve the health of children and youth with special health care needs (CSHCN) through promotion of the role of families and family organizations in all aspects of health care programming and policy development. Family partnership with maternal and child health professionals has been a key tenet and a basic Family Voices principle.
IMPACT promotes a holistic approach to health and wellness for all families and children including those with special healthcare needs and disabilities.
IMPACT elevates and expands the capacity of family organizations – those that serve all children as well as those that serve children with special needs and disabilities  –  to educate and inform families about lifestyle strategies and choices that positively impact the long-term good health of children. 
IMPACT promotes health and wellness by developing materials and tools and sharing other resources that help families learn skills to build healthy relationships, healthy families, and healthy communities.
---
The Mission of Family Voices:
Family Voices aims to achieve family-centered care for all children and youth with special health care needs and/or disabilities. Through our national grassroots network, we provide families resources and support to make informed decisions, advocate for improved public and private policies, build partnerships among families and professionals, and serve as a trusted resource on health care.